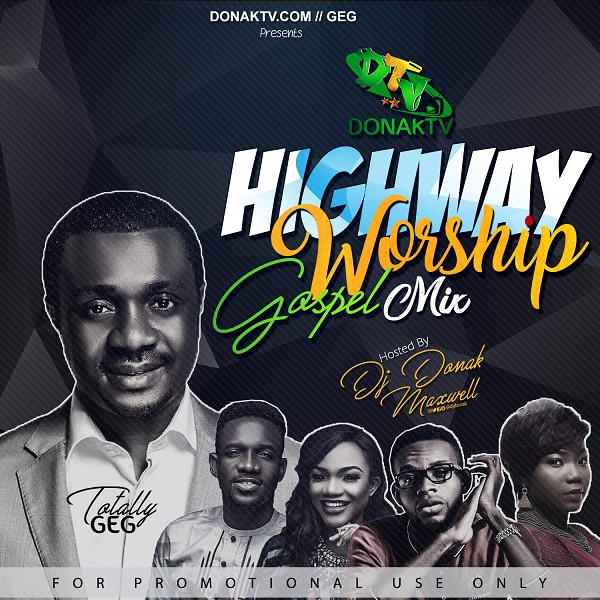 DonakTv.com
and
GEG
presents
DJ Donak Maxwell
in this Epic, organized, clean worship gospel mixtape titled
"HighWay Worship (Gospel Mix)
.
This mixtape contains soul and spirit lifting songs guaranteed to give your life a meaning, not only leading you to God but also to be your worship and prayer tool anytime, any day.
According to
DJ Donak Maxwell
–
"I want people to know that being a DJ doesn't mean i can't use my God given magical hands to promote his kingdom, Highway Worship (Gospel Mix) tracklist is carefully selected to keep you in the mood of worship from the starting to the end. it is Epic, Organized and contains Clean Worship Songs, i prayed before embarking on this project so i know God will use it not only to promote his Kingdom but to answer all your prayers and heart desires. #BlessedKid"

Enjoy the new gospel mixtape below, don't forget to share the gospel.
1. Prospa Ochimana ft. Osinachi Nwachukwu – Ekueme
2. GUC – Alabo (My King)
3. Nathaniel Bassey – Casting Crowns
4. Ada – Cheta
5. Flavour – Most High ft. Semah G Weifur
6. Michael Rich – Werelo ft. GUC
7. Frank Edwards – Away
8. Preye Odede – Oshimiri Atata ft. Generation Of Praise
9. Mercy Chinwo – Excess Love
10. Nathaniel Bassey – Onise Iyanu
11. KCA (Kelly Chisom) – Hold
12. Ada – Only You
13. Mercy Chinwo – Omeka Nnaya
14. B.Kelvin – Oyaage (Thank You)
15. Tim Godfrey & Extreme – Mmamma Ya
16. Frank Edwards – Celestial ft. Victor Ike
17. Ada – I Testify
18. Nathaniel Bassey – Incredible Love ft. Chris Morgan & Simpa Adaba
19. Frank Edwards – Miye Ruwe
20. Preye Odede – Bulie
21. Nathaniel Bassey – OlowoGboGboro ft. Wale Adenuga
22. Mr 2Kay – Pray For Me
MIXTAPE: DJ DONAK – HIGHWAY WORSHIP (GOSPEL MIX)
Reviewed by
Naijmusic
on
07:17
Rating: